Overview
Photovoice is a research method which has been used to work with people in a variety of circumstances to try and maximise engagement and amplify their voices. We sought to understand whether and how photovoice would engage young people to identify places and spaces where their voices are heard or ignored. Our project in Wallacetown, Ayr with the Scottish Violence Reduction Unit identified a number of opportunities and challenges to be considered when using photovoice. Practical issues were encountered with recruiting and engaging participants as well as protecting participant confidentiality with the cameras. Photovoice project participants should feel some ownership of the project, which means a rigorous consent process is needed, especially if under 16 year olds are participating. It is important for participants to understand and agree with how the photos and interview transcripts will be used and how the police are involved. Interviews about the photos taken can cause distress, and there can be risks related to who, what or where the photographers capture, therefore measures are needed to protect participants.
We found that those who chose to participate welcomed the creative opportunity to be heard by the police. The photos often relate to issues of concern in the community (crime, antisocial behaviour, environmental issues, etc.), they can be stark and photovoice allows a way of showing what is of concern in a way that might not be elucidated from surveys or focus groups. It therefore is a way of meaningfully engaging with participants which encourages their creativity and allows their voice to be heard which will help make the project more likely to be a success.
Twelve participants took part in the project, all of whom were female aged 14 to 25 years. They were asked to take photos in response to this question: What makes you feel heard or ignored in Wallacetown? They took over 200 photos, and 7 participants took part in interviews to discuss the photographs they took. There were four themes across the photos and interviews:
1. Safety
2. People
3. The Police
4. Positive aspects of Wallacetown.
These four themes were interrelated but illustrated that there were some fundamental issues linking a sense of belonging to a community with the ability or desire to feel heard. Safety was not just about the other people in the community, but the environment making this a combined police, local authority and community responsibility. The experience of being done to by the 'Council' was reported as being similar to experiencing antisocial behaviour from other residents, increasing someone's sense of not belonging or feeling part of the community.
These were topics which may not often be discussed with the police but which were facilitated by the photovoice method. With the interviews being conducted by the police, it was felt that the photovoice method enabled a different kind of conversation with the community. Particularly making it possible to see the community perspective. These insights might support more work in collaboration with communities hopefully supporting more positive change.
The photos will now be shared widely as well as with Wallacetown as stark illustrations of being heard.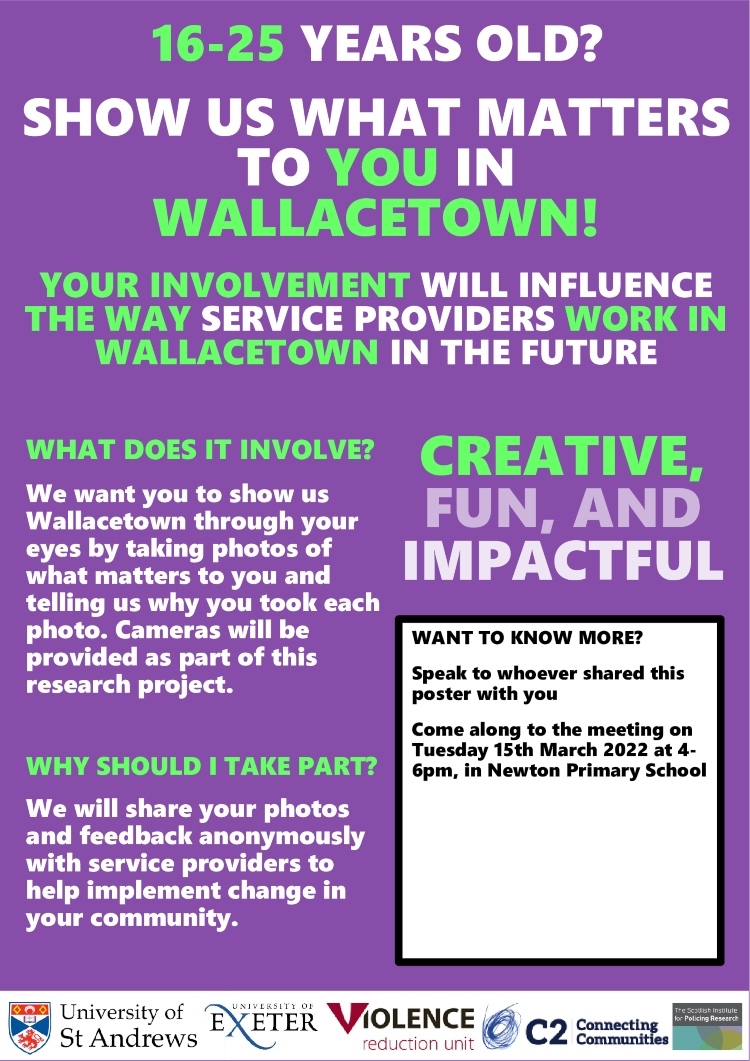 Recommendations for policy or practice
1. Photovoice is a valuable method for use on specific projects, where the police want to hear about a specific topic or from a specific group.
2. Involving researchers as part of the process is probably necessary to ensure the ethics and rigor of the project.
3. Photovoice is unlikely to work where the relationship between the police and community is particularly difficult.
4. Photovoice probably works best over shorter periods of time (days or weeks), but this requires that digital photography be used, so the photos are quickly available for the interviews.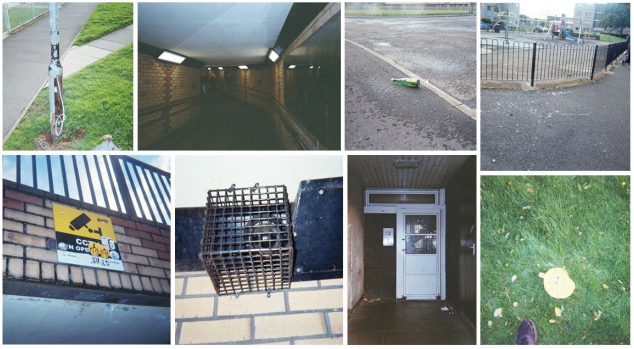 Participant photos on the theme of 'safety'.
This research project was part of our seldom heard communities programme. Police Scotland, the Scottish Institute for Policing Research (SIPR) and the Scottish Police Authority (SPA) joined together to provide significant funding for projects and activities which meet genuine evidence gaps. This work will support Police Scotland to further contact and engagement with all elements of our communities in Scotland, but particularly those groups which are seldom heard.