Overview
Practitioners from Queen Margaret University are conducting a study that examines refugee and asylum seeker experiences with Police Scotland and associated community protection services.
This study acknowledges the valuable role of Police Scotland and its commitment to community safety, wellbeing and its foundation of positive community relations and policing by consent, however, notes that refugees and asylum-seekers are especially vulnerable to exclusion from social and public services. While Police Scotland are indispensable for improving the safety and wellbeing of persons, localities and communities in Scotland, refugees and asylum seekers are sometimes out of reach due to several intersecting individual, community, cultural and systemic barriers.
Collaborating with a local third sector organisation that provides psychosocial support to refugees and asylum seekers, this research aims to build an understanding of any challenges or facilitators important for improving refugee and asylum seeker trust and confidence with policing services as well as identifying methods Police Scotland and associated services can adopt to meaningfully engage with members of this population group whose voices might otherwise be seldom heard.
This research builds an understanding of the quantity and quality of the participating refugees' and asylum seekers' social networks and their role in influencing engagement with policing. It will apply the Social Connections Mapping Tool (SCMT) to map refugees' and asylum seekers' social connections and to establish a sense of the frequency and reciprocity of interactions, helping to gain a sense of quantity and quality of their social networks. Alongside this, in-depth interviews with refugees, asylum-seekers and police are used to qualitatively investigate potential barriers or facilitators to enforcing safety, preventing crime and experiences of engagement or lack of engagement.
The findings will inform the delivery of a participatory knowledge exchange workshop with refugees, asylum-seekers and Police Scotland personnel, emphasising person-centred communication strategies with the goal of strengthening trust, contact and reciprocity between Police Scotland and this seldom-heard community.  
These findings are part of a bigger picture and the aim is to secure funding to conduct a larger scale project in the future.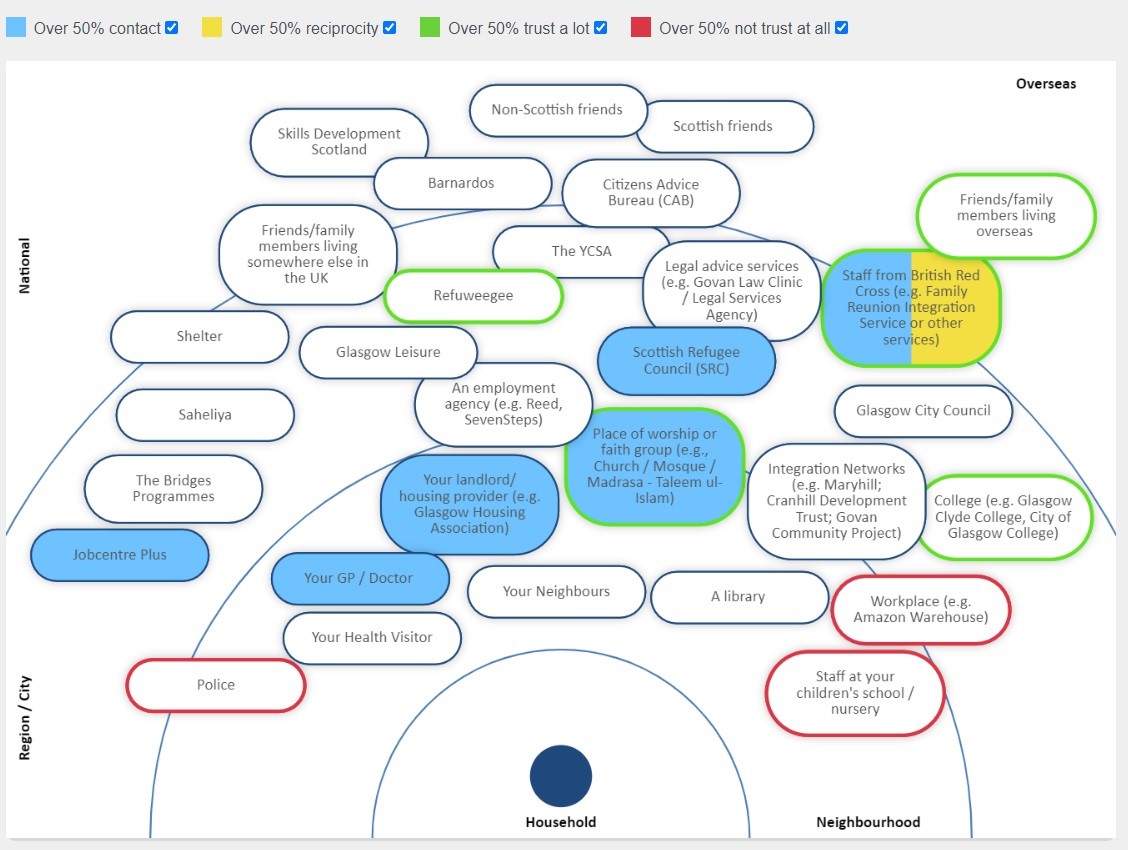 Glasgow Social Connections Mapping Tool