Overview
This study builds an understanding of the quantity and quality of refugees' social networks, and their role in influencing public perceptions and engagement with the police. It applies the Social Connections Mapping Tool (SCMT) methodology, combined with in-depth interviews with refugees, asylum-seekers, police personnel, and associated services to identify refugee and asylum-seeker experiences, trust and confidence with Police Scotland and associated services.
Findings
• Visibility, trust & confidence: Some participants had limited knowledge of Police Scotland or how to contact them. Confidence in Police Scotland is good despite negative experiences in their countries of origin. Most agreed increased police visibility is important.
• Resources & Engagement: Officers recognised the importance of engaging with refugees and asylum-seekers but highlighted the challenge of operational demands and resourcing.
• Language: Limited English language makes engaging with the police difficult, and ineffective interpretation and translation impacts on trust and confidence in the service. Police personnel agreed that language barriers can increase call and response times.
• Gender: Efforts are being made to improve the gender imbalance in the police workforce.
• Racism and hate crime: There was a general concern surrounding racism both at the hands of the community and the police, exacerbated by anecdotal accounts from others.
Recommendations
• Engage with refugees and asylum-seekers to gain familiarity of their social networks.
• Increase community support and empower communities to develop solutions to problems.
• Utilise police officers' cultural insights to assist with understanding community issues.
• Equip all officers with community policing information and resources (e.g. cultural awareness training, working with interpreters, agreeing methods to support inclusion).
• Enlist support of refugee-related organisations, local community organisations and/or faith based organisations; these can serve as a bridge between the police and communities.
• Work with the wider community to encourage knowledge sharing and mutual understanding of people's needs and expectations from police.
• Implement structured information sessions aimed to raise awareness of laws in Scotland.
• Work with offenders to identify effective crime prevention strategies and emerging threats.
• Counteract casual hostility and racism to benefit refugees' health and productivity.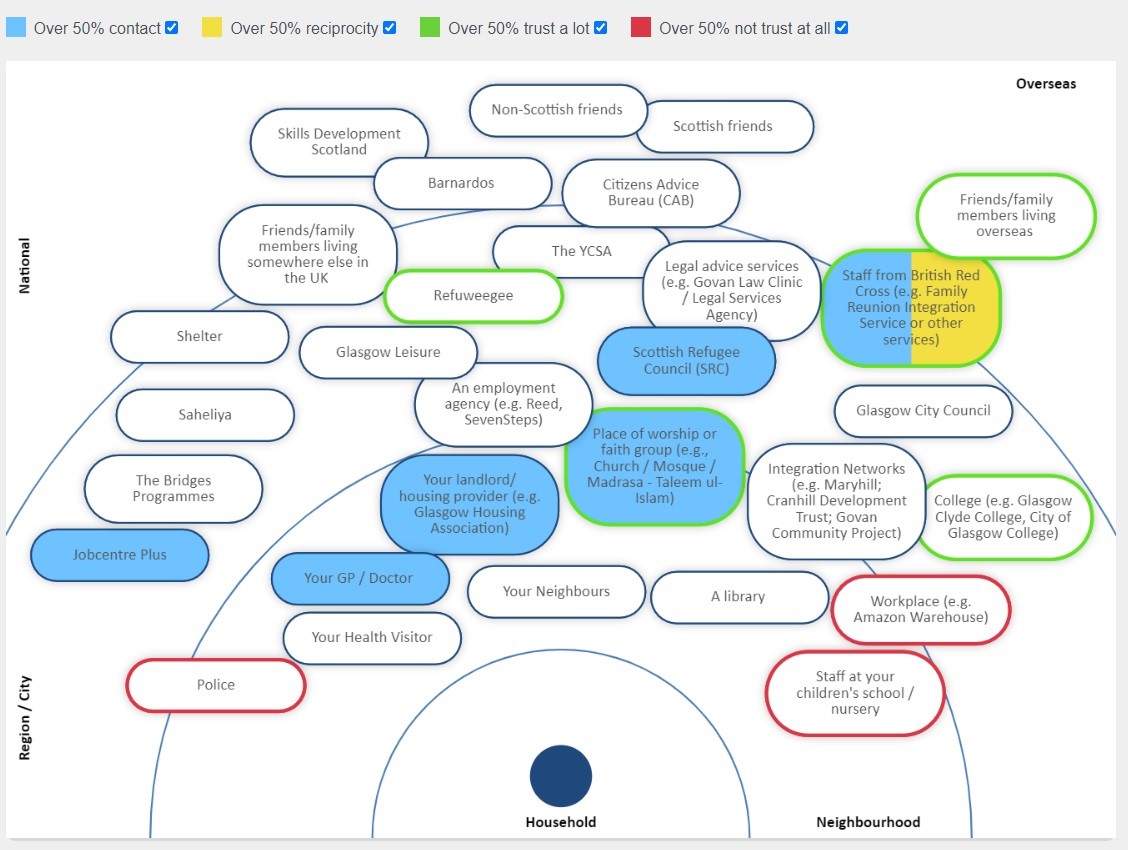 Glasgow Social Connections Mapping Tool
This research project was part of our seldom heard communities programme. Police Scotland, the Scottish Institute for Policing Research (SIPR) and the Scottish Police Authority (SPA) joined together to provide significant funding for projects and activities which meet genuine evidence gaps. This work will support Police Scotland to further contact and engagement with all elements of our communities in Scotland, but particularly those groups which are seldom heard.